What a memorable football match on Valentine's Day in the capital of love, Paris! 
For Cristiano Ronaldo fans, Barcelona defeats always taste sweet but on Tuesday night, the 4-0 loss away to Paris Saint-Germain was even sweeter. The fact that the victory was orchestrated by ex-Galactico Angel Di Maria, coupled with Lionel Messi's disastrous display, made it a night to never forget.
Ahead of the match, Cristiano Ronaldo fans feared that the all-time UEFA Champions League topscorer with 95 goals would be leapfrogged by Leo (93) in the race to a century of goals. However, the Barcelona talisman was unusually poor at the Parc des Princes and rarely showed any flair in attack. He was actually even guilty of losing the ball in the build-up to Draxler's goal.
So Messi lost the ball, which led to Draxler's goal. Barca fans will say it's a pre-assist. 😏🤣🤣 #PSGFCB pic.twitter.com/llPu4UaR2b

— CRonaldoDaily.com (@BreatheRonaldo) February 14, 2017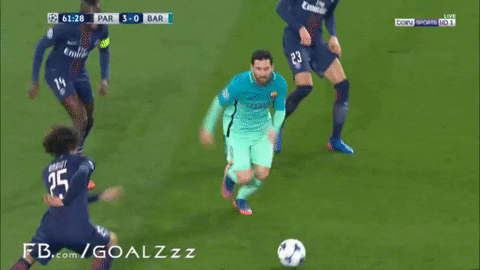 In spite of Messi's shocking display, it was Di Maria who stole the show by making the most of his 61 minutes on the pitch. It all started with a powerful free-kick to put PSG 1-0 up after 18 minutes.
My mans Di Maria lowkey still mad at Messi for what happened in the Copa America. He saw an opportunity & took it.

— a girl (@Mrs_Cr7) February 14, 2017
Before being subbed off for Lucas Moura, the former Merengues produced a fantastic long range goal to make it 3-0 in the 55th minute.
Watch Di Maria's beautiful bullet strike: 
Unbelievable team goal by PSG, finished off by Di Maria who was on flames before being subbed 🔥🔥 pic.twitter.com/FL1LndjnEp

— The F2 (@TheF2) February 14, 2017
His historic brace earned him a lot of praise among Ronaldo fans on Twitter. Here, we celebrate Di Maria's epic night against Barcelona on his 29th birthday:
Di Maria. We love you more. 2 goals. 3-0! Once a Real Madrid legend. Always a Real Madrid legend! #PSGBAR #UCL https://t.co/MMlFNIq8xa

— CRonaldoDaily.com (@BreatheRonaldo) February 14, 2017
Caller: I have an emergency
Operator: what might be the problem
Caller: DiMaria is causing too much happiness in my life
Op: 😂😂
Caller: 😂😂

— Mutagwenda (@MweneKakooko) February 14, 2017
Hala Madrid for Life. Thank you Di Maria

— Adriano Ronaldo (@AdrianArias182) February 14, 2017
Always said we shouldn't have let go of Di Maria

— Viva Ronaldo (@usnan_7) February 14, 2017
Grandioso Di María!! 😻😻🙌🏼🙌🏼😌

— Cristiano Ronaldo (@esthercr7) February 14, 2017
Birthday boy Cavani rounded up the win in the 72nd minute. So while current 2016/17 UCL topscorer Lionel Messi has more than one foot out of the competition, Ronaldo stands the chance of firing Real Madrid to a first-leg win at home to Napoli on Wednesday night.
Let's hope CR7 builds upon his encouraging display against Osasuna at El Sadar and that he extends his good record against Italian teams. AC Milan, Juventus and AS Roma have all been victim of the Portuguese forward's fury. Napoli could be next!