Mention Cristiano Ronaldo's name and the next word you would discover is "records". CR7 is a pioneer with 12 major first-to accomplishments.
The current Ballon d'Or winner keeps destroying long existing establishments aside trophies with this season's UEFA Champions League win against Juventus being the recent achievement. The Portuguese star won his third Champions League title with Real Madrid making first-time records and mastering a number of difficult tasks.
But what are those milestones and how did he create all these en route to 600 career goals for club and country?
1. The first Captain to win a trophy for Portugal's senior men's team
On July 10, 2016, he led the Seleccao to their first European Cup final since 2004 as they beat hosts France courtesy a goal from striker Eder at extra time. Ronaldo was a finalist when Portugal hosted the Euros losing to a surprise Greece team.
Ronaldo celebrates with teammates after Euro 2016 win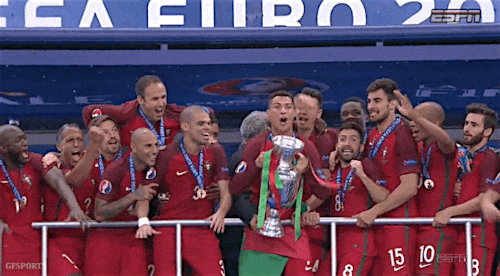 2. The first to score in four UEFA Euro Championships aside the qualifiers
Michel Platini has nine goals just like Ronaldo. The former UEFA boss scored all goals in the 1984 tournament played in his native France but the current captain scored two in 2004, one in 2008, three in 2012 and three again in 2016.
And what a way to set that record!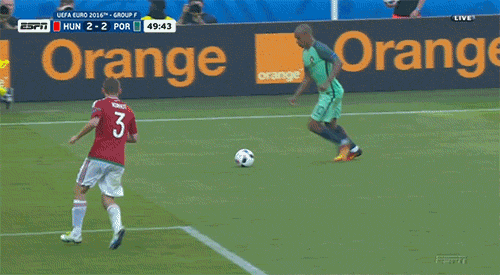 3. The first to score in seven consecutive major tournaments.
At the Euros last year, Cristiano made history by being the first to score in seven consecutive tournaments. Let's do a throwback and trace each of those seven major competitions. It all commenced 13 years ago.
• Euro 2004: 2 goals (He scored in their 2:1 loss against Greece in the group stage and the first goal in Portugal's 2:1 win over Holland)
• FIFA World Cup 2006: 1 goal in the 2:0 win over Iran in the group stage. His winning spot-kick against England in the knockout stages doesn't count as a goal.
• Euro 2008: 1 goal in their 3:2 loss to Germany in the quarter-finals
• FIFA World Cup 2010: 1 goal in a 7:0 win against North Korea at the group stage level
• Euro 2012: 3 goals (A brace against Holland in a 3:2 win and the only goal against Czech Republic at the quarter-final stage)
• FIFA World Cup 2014: 1 goal against Ghana in their 2:1 group stage win
• Euro 2016: 2 goals in their vital 3:3 draw against Hungary and a header against Wales in the semis
4. The first to win a Euro Championship, UEFA Champions League and the Ballon d'Or in a single year
Ronaldo finished 2016 as a Champions League winner as Real Madrid was victorious after a penalty shootout against rivals Atletico Madrid in the final game. Captaining Portugal, they beat hosts France in extra time to clinch the Euro trophy. He capped off the season with personal achievement by grabbing the Ballon d'Or despite competition from FC Barcelona's Lionel Messi and Antoine Griezmann of Atletico Madrid.
5. The first to win UEFA Champions League, Ballon d'Or and Golden Boot at two clubs
He got these three awards after leading Manchester United to the Champions League title against Chelsea and netting 31 goals on the way to Premiership glory in 2007/08 season. Ronaldo followed with the same achievement in Spain with Real Madrid in 2014.
Ronaldo's first ever taste of European glory
6. The first to score 100 goals in Champions League history
With a hat-trick against Bayern Munich in this season's Champions League semi-final clash at the Bernabeu, Cristiano became the first player to reach such a special number. Currently, he has 105 UCL goals.
How Cristiano scored his first 100 #UCL goals. Mr. Complete Athlete! More in Episode 3 of #SerbanTalksRonaldo https://t.co/eFoldRPjlA pic.twitter.com/KWr5zfj5CT

— CRonaldoDaily.com (@BreatheRonaldo) April 19, 2017
7. The first to score in three UEFA Champions League finals
He scored in Moscow 2008 against Chelsea, the last goal in a 4-1 extra time thumping against Atletico Madrid in 2014. And finally, he wrote his name in European history books with a brace in Cardiff against Buffon's Juventus.
8. The first to score a hat-trick in a FIFA Club final
Real Madrid were 4:2 winners against Japanese champions Kashima Antlers with Ronaldo saving Madrid from a scare as Kashima led 2:1 after 53 minutes. His hat-trick indeed did the trick for the eventual 2016 FIFA Club World Cup champions!
9. The first to score an extra-time goal in a Clasico final
Roll back the years to April 2011 when football fans got treated to El Clasico in the Copa del Rey final. With Real Madrid and Barcelona forced into extra-time following a goalless 90 minutes, Ronaldo stepped up higher than anyone else. The versatile athlete headed in a Di Maria cross thereby granting then Madrid coach Jose Mourinho his first trophy in Spain.
10. The first to win the Ballon d'Or for Manchester United since 1968
Dennis Law, Bobby Charlton, and George Best were the only Manchester United-based Ballon d'Or winners till Ronaldo claimed the award in 2008. It had been 40 years since a Man United player had won the prestigious title. Golden.
11. The first to win four European Golden Shoes
Cristiano had already won three Golden Shoe awards in 2008, 2011 and 2014. He added another in 2015 after scoring 48 goals, thereby setting a record that he now co-shares with Lionel Messi.
12. The first European player with one goal per game ratio in club football
There are a bunch of players with one goal per game ratios but he became the first European to reach such landmark in La Liga. This record was set after scoring 40 goals for Real Madrid in 2011 which further made him the first player to hit that number in the history of the Spanish Primera Division, surpassing Telmo Zarra's 38 strikes for Athletic Bilbao during the 1950-51 campaign.
As the FIFA Confederations Cup starts later this month, Cristiano Ronaldo might surely set another "first-to" record. Just wait for it…